Highest Paid Players in LALIGA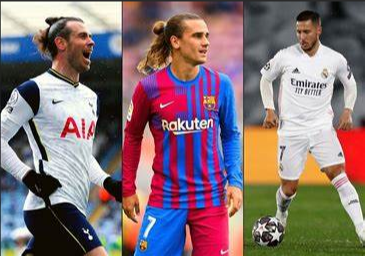 Highest Paid Players in LALIGA
| | | |
| --- | --- | --- |
| Name of Players | Salary Amount | Contract Year |
| | | |
| --- | --- | --- |
| Gerard Pique | $1 Million | 2001-2023 |
| | | |
| --- | --- | --- |
| Frenkie de Jong | $720,000 | 2013-2019 |
| | | |
| --- | --- | --- |
| Sergio Busquets | $712,000 | 2003-2008 |
| | | |
| --- | --- | --- |
| Eden Hazard | $600,000 | 2005-2019 |
| | | |
| --- | --- | --- |
| Karim Benzema | $462,000 | 2005-2009 |
| | | |
| --- | --- | --- |
| David Alaba | $433,000 | 2002-2021 |
| | | |
| --- | --- | --- |
| Toni Kroos | $433,000 | 2002-2014 |
| | | |
| --- | --- | --- |
| Jordi Alba | $400,577 | 2003-2012 |
| | | |
| --- | --- | --- |
| Jan Oblak | $400,577 | 2009-2014 |
Gerard Pique: $1 Million
Gerard Pique originally a talented student at La Masia, Pique joined Manchester United in 2004. He returned to Barcelona under Pep Guardiola in 2008 and helped the club to trebles in 2008/09 and 2014/15. He is one of just four players to have won the UEFA Champions League two years in a row with different clubs. The others are Marcel Desailly, Paulo Sousa and Samuel Etoóo. Piqué has also played 102 times for Spain, making his debut on February 11, 2009. He played an important role in Spain's teams that won the 2010 FIFA World Cup and UEFA Euro 2012.
Frenkie de Jong: $720,000
Frenkie de Jong started his professional career in 2015 with Willem II. A year later he joined Ajax for €1. The cost was nominal and offset by a resale clause. At Ajax, he established himself as one of Europe's best young midfielders after winning the domestic double and reaching the semi-finals of the Champions League. De Jong won the Eredivisie and KNVB Cup, was Eredivisie Player of the Season and played a key role in Ajax's first UEFA Champions League semi-final in 2018/19 in 22 years.During his breakthrough season, de Jong agreed to sign for Barcelona in January 2019, which led to him signing for the club in July for a fee of €75m.
Sergio Busquets: $712,000
A clubman, he joined the Barcelona first team in July 2008. Since then he has played over 600 games in total for the club and won 30 trophies including 8 league titles, 7 Copa del Rey titles and 3 UEFA Champions League titles. He was part of the teams that won the La Liga continental treble, the Copa del Rey and the UEFA Champions League in 2008/09 and 2014/15. Busquets made his senior debut for Spain in April 2009 and has since won 143 caps in Countries. He helped the country win the 2010 World Cup and Euro 2012, and has competed in three other World Cups and two European Championships.
Eden Hazard: $600,000
Hazard began his career in Belgium where he played for local youth clubs. In 2005 he moved to France where he began his senior career with Ligue 1 club Lille. Hazard spent two years at the club's youth academy and made his debut in November 2007 aged 16. He was an integral part of the Lille squad under Rudi Garcia.In his first full season he became the first non-French player to win the Ligue 1 Young Player of the Year award and the following season he became the first player to win that award twice. [8] In the 2010/11 season he was part of the Lille squad that won a league/cup double and his performances earned him the Ligue 1 Player of the Year award, the youngest player to ever win the award and the winner is.
Karim Benzema: $462,000
France international Benzema won the 2004 UEFA European Under-17 Championship and made his international debut aged 19 in 2007. He played 97 games, including three goals, and took part in four major tournaments. France's fifth all-time top scorer. Benzema was controversially left out of the 2010 World Cup squad and did not play for France for more than five years after being embroiled in a 2015 extortion scandal. He then returned to the
squad before announcing his retirement from the national team in December 2022. He was voted French Player of the Year four times by France Football.
David Alaba: $433,000
Alaba started out in Bayern's youth team before being promoted to the reserves for the 2009/2010 season.In January 2011, Alaba went on loan to TSG 1899 Hoffenheim until the end of the 2010/11 season. At the beginning of the 2011/12 season, he returned to Bayern Munich, where he became a permanent member of the first team. Alaba made over 400 appearances for Bayern Munich and won 27 titles, including ten Bundesliga titles and two UEFA Champions League titles in 2013 and 2020, both as part of a treble. During his time in Germany he was named UEFA Team of the Year three times. In 2021and David Alaba signed for Real Madrid; In his debut season, he won the LaLiga, Supercup and Champions League titles in 2021-2022.
Toni Kroos: $433,000
Kroos started his professional career at Bayern Munich, where he made his debut in 2007 at the age of 17. Used sparingly, he opted for an 18-month loan with Bundesliga club Bayer Leverkusen, where he has since turned professional. With Bayern, Kroos won back-to-back league titles (three overall), one UEFA Champions League title, two DFB-Pokal titles and was named team of the third-season league times. In 2014 he joined Real Madrid for €25m.
Jordi Alaba: $400,577
Alba started his career at Barcelona but was sacked because he was considered too young.After joining Cornellà, he moved to Valencia. In 2012 he returned to Barcelona with whom he won sixteen major trophies including five La Liga titles, five King's Cups and one UEFA Champions League. After 23 appearances and a youth goal, Alba made his first-team debut for Spain in 2011. He was an integral part of the squad that won UEFA Euro 2012 and was part of the squad for the 2014 FIFA World Cup, 2018 and 2022 and 2016 and European Championships in 2020.
Jan Oblak: $400,577
Oblak signed for Portuguese club Benfica at the age of 17 and was part of the squad that won the domestic treble in the 2013/14 season. In 2014, he joined Atlético Madrid for €16m, making him the most expensive goalkeeper in La Liga at the time. In 2015-2016 he won the Ricardo Zamora Trophy as the best goalkeeper and conceded a record 18 goals. He won the award again for the next three seasons, and for a fifth time in 2021. Oblak was also nominated for the and 2018 Ballon d'Or after consistent performances for his club.