Jadon Sancho Voices Frustration Amid Omission From Manchester United Squad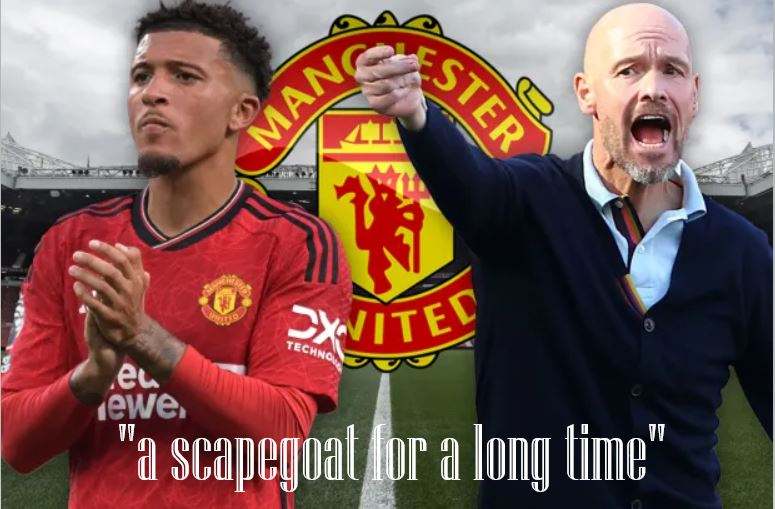 In a recent twist of events, Jadon Sancho, the 23-year-old English forward for Manchester United, has spoken out about feeling unfairly treated and being labeled as a scapegoat after he was left out of the squad for Sunday's match against Arsenal. His omission came following comments by Manchester United's head coach, Erik ten Hag, who cited Sancho's subpar training performance as the reason for his exclusion.
Sancho's absence from the Emirates Stadium showdown, which ended in a 3-1 defeat for Manchester United, raised eyebrows among fans and pundits alike. Ten Hag had publicly stated that Sancho had not met the required performance "level" for inclusion in the squad. In response to these developments, Sancho took to social media to address the situation.
Sancho began his social media post by cautioning against believing everything read in the media. He strongly denied the accusations of poor training performance, stating, "I will not allow people to say things that are completely untrue. I have conducted myself very well in training this week." He further hinted at undisclosed factors contributing to his omission and expressed his frustration with being unfairly singled out, saying, "I've been a scapegoat for quite some time, and it's just not fair!"
The talented winger joined Manchester United from Borussia Dortmund in 2021 for a substantial fee of £73 million. However, his time at the club has been marked by inconsistent form, with just nine league goals and six assists in 58 appearances.
Erik ten Hag defended his decision not to select Sancho for the Arsenal clash, emphasizing the need for consistent performance at Manchester United. He clarified, "Regarding Jadon, his training performances factored into the decision not to include him." You have to meet a certain standard every day at Manchester United, and for this particular game, he did not meet that standard."
Despite the setbacks and public scrutiny, Jadon Sancho expressed his unwavering commitment to Manchester United. He emphasized his desire to enjoy playing football and contribute to his team. Sancho also conveyed his respect for the coaching staff's decisions and acknowledged the challenge of competing alongside exceptional players. He concluded with a pledge to continue fighting for the club's badge, regardless of the circumstances.
This recent episode in Jadon Sancho's career underscores the pressures and challenges faced by professional footballers, as well as the importance of effective communication between players and coaching staff to resolve misunderstandings and maintain motivation.
It is noteworthy that just a few months ago, Erik ten Hag had praised Sancho's return to form after a period marked by physical and mental challenges. At one point, Ten Hag had even expressed doubts about Sancho's fitness to play. However, Sancho made a triumphant comeback, contributing significantly to Manchester United's success in crucial matches.
As the situation between Jadon Sancho and Manchester United continues to evolve, fans and pundits will closely monitor developments. What remains evident is Sancho's unwavering dedication to the club and his determination to overcome challenges and contribute positively to the team.