How Mohammad Salah becomes a Liverpool Legend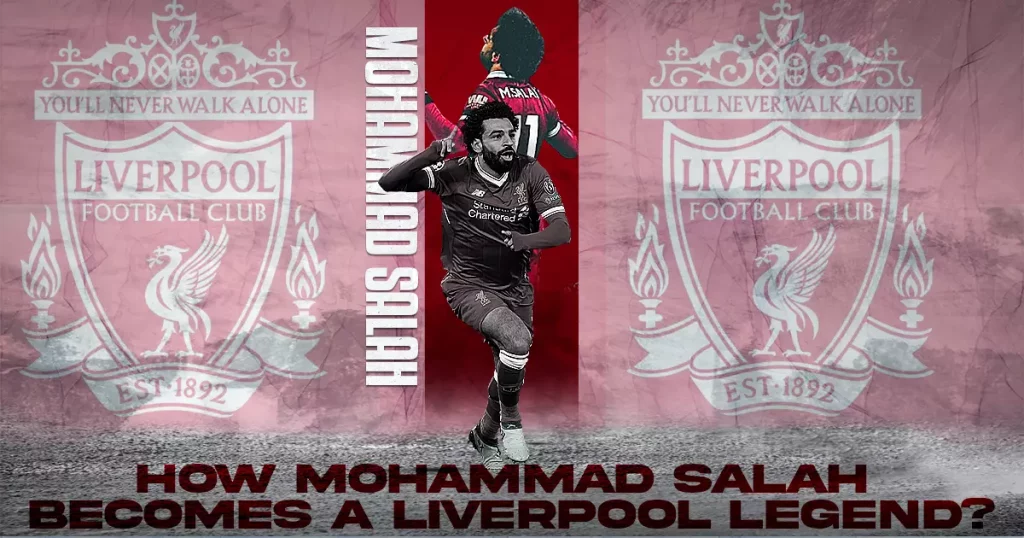 Mohamed Salah has won numerous titles with Liverpool, and is considered as one of of the best and most productive strikers in the world. Since moving to the Reds from AS Roma in the summer of 2017, the Egyptian has been an unstoppable goal scorer and has won the Premier League, Champions League, FIFA Club World Cup, Emirates FA Cup, UEFA Super Cup, Carabao Cup, and FA Community Shield.
See More: Premier League streams
During the 2021–22 season, he reached the milestones of 250 appearances and 150 goals and entered the top 10 of the club's all-time leading scorers list. He also helped his team win the FA Cup and Carabao Cup, reach the third Champions League final of his Liverpool career, and finish second in the Premier League.
Footballer of the year award
During the 2021–22 season, he won the FA Cup and Carabao Cup, assisted his side in reaching the third Champions League final of his Liverpool career, and helped the team finish second in the Premier League. He also rose to the top 10 of the club's all-time highest scorers list. In February 2022, Salah led Egypt to the Africa Cup of Nations final, capping off another outstanding season with a bevy of individual accolades. Moreover, he received a second PFA Players' Player of the Year trophy, which he also received in 2017–18, a Football Writers' Association Footballer of the Year award, a third Premier League Golden Boot title, and his first Premier League Playmaker of the Season honour.
Salah has scored 129 Premier League goals in 205 games, which is 61 fewer games than Fowler played for the team. The Egyptian, who is currently seventh on the club's all-time scoring record with 178 goals, just became the second Liverpool player (behind Ian Rush) to score 20 goals or more in all competitions in six straight seasons. The only player who scores more frequently than him is Gordon Hodgson, who last appeared at Anfield in 1935.
Salah is no flat-track bully: his favourite opponents are Manchester United, who have now suffered at his hands on 10 occasions, while Arsenal, Manchester City and Tottenham all feature in his top 10.
Salah's Liverpool PL goals by opponent
| OPPONENT | GOALS |
| --- | --- |
| Manchester United | 10 |
| Watford | 9 |
| West Ham | 9 |
| Bournemouth | 8 |
| Crystal Palace | 7 |
| Arsenal | 7 |
| Leeds United | 7 |
| Southampton | 7 |
| Tottenham | 7 |
| Brighton | 6 |
| Manchester City | 6 |
| Newcastle United | 6 |
| Aston Villa | 5 |
| Everton | 5 |
| Chelsea | 4 |
| Huddersfield | 4 |
| Leicester | 4 |
| Wolves | 4 |
| Fulham | 3 |
| Norwich City | 3 |
| Stoke City | 2 |
| West Brom | 2 |
| Burnley | 1 |
| Brentford | 1 |
| Cardiff City | 1 |
| Sheffield United | 1 |
A talent set
Salah played alongside Sadio Mane and Roberto Firmino in a famed front three as Liverpool won the Premier League, the Champions League, and the Club World Cup. With Cody Gakpo and Darwin Nunez forming new combinations, Jurgen Klopp's front line is currently changing, but Salah's abilities allow him to compliment many offensive styles.
The spirit of endurance
Salah's availability is one of his most valuable qualities. He's getting close to 300 appearances for Liverpool as his sixth season at the club enters its final stretch. In 2022–2023, he hasn't missed a Premier League match. In fact, since moving from Roma in 2017, he has only missed 10 games in the top division.
Despite the harsh treatment he frequently receives, he rarely loses his cool. In 291 games for Liverpool, Sunday marked just the seventh occasion he has been sent a yellow card. He had already received four cautions for removing his jersey after scoring. When Salah returned to the home dressing room on Sunday, his teammates gave him a standing ovation and gave him a commemorative shirt with the number "129." He enjoyed a cup of camomile tea with his family and friends while celebrating at home in Cheshire before taking a well-deserved Monday off.
Salah's upcoming future
Salah establishes personal goals for himself. Having won the Golden Boot with 32 goals in 2017–18, he said on Sunday that the possibility of becoming Liverpool's most scorer during the Premier League era has been motivating him. He might be ranked fifth on the team's all-time scoring list by the end of this season. He is eight adrift of Gerrard (186), and he is five adrift of Fowler (183). Only the legendary figures Billy Liddell (228), Hodgson (241), Roger Hunt (285) and Rush (346) would be left in front of him.
Some questioned the wisdom of making him the highest-paid player in the history of the club last summer with that new three-year contract worth about £350,000 per week when the goals dried up earlier in the season. Since then, the discussion has subsided. Salah was pricey, but he was worth it.
Salah's favorite league goals
Manchester City, 2021, says Robbie Fowler
There are so many to choose from, but the one last year at Anfield against City was particularly memorable. In other words, it was perfect. Salah was facing the goal when Curtis Jones passed the ball to him outside the box. But he also had the strength to repel the defender, the close coordination, and the balance to evade more challenges and manoeuvre into the penalty area. He appeared to be moving smoothly across the grass. Even then, Ederson was in the way, but the arrowed finish was unstoppable. A goal like that is rare among players.
Caoimhe O'Neill: 2021, Watford
Salah scored a fantastic goal against Watford last year. You are aware of the one I'm referring to. It was unsettling to see. It was like watching your phone fall to the ground and knowing that you can't stop it because gravity will always take its course. Salah is also in these circumstances. He was most like a martian at this point. Artificial intelligence couldn't imitate a goal like this since it was real despite being robotic and practically computerised.
Salah's identical goal against Manchester City a few weeks prior only served to further melt hearts as people watched him repeat the feat. Salah has the ability to read and respond instantly. The best players in the world are the only ones who can appear to have stopped an entire defence. Salah did this, though. He has the lightning speed. The flash appears first, followed by the thunder. There is nothing that can be done to halt the noise once it begins to ring in your ears.
Many of his objectives are high art, the kind that could be displayed in a posh gallery in a gold frame. But he also has high-end objectives. On that particular Saturday, Vicarage Road served as his runway, and he was dressed in couture.
Manchester United, 2020 -- Andy Jones
Unless you are the opposition, Salah charging towards goal is one of the most exciting sights on a football pitch. But there he was, waiting on the halfway line against Manchester United in the dying seconds as Ole Gunnar Solskjaer's team pushed for a late equaliser. Alisson was on the move as soon as he caught the ball with his arm raised. When it came to the Egyptian, the Brazilian custodian made no hesitations. The first contact was exquisite. He continued to move towards the objective with each step after that.
This man was in his element, playing at the pinnacle of his abilities, and cherishing the instant when hope became reality. The forward who personifies calm when netting could not control his emotions because the top was off and his chiselled form was on display. Alisson was the first to reach out to him, and the two embraced while gazing at the commotion they had helped to bring about in the Kop.
Liverpool's Egyptian King
Only 10 players in Liverpool history have scored 150 goals for the club, and Mohamed Salah joined an esteemed group of individuals with the promise of more. Furthermore, against Norwich, the No. 11 once again shown his brilliance by latching onto Alisson's raking delivery, confusing the defence, and slipping the ball into the goal.
In order to pass Gerrard (fifth) in the all-time scoring records, Salah needs nine more goals, which is definitely doable this season. Gerrard will not be safe with 186 goals. Few, including Jurgen Klopp, could have predicted Salah's journey when he arrived at Anfield in 2017. It's another nod to his incredible prolificacy. Moreover, Egyptian striker Mohamed Salah is the Reds' favourite player, according to Liverpool veteran Steven Gerrard. In an interview with the Egyptian sensation that aired on LFCTV, Gerrard—who made his Liverpool Football Club debut in 1998 and departed the club in 2015—called Salah a "exciting" player and lauded his abilities.
In an interview that aired shortly after Salah became Liverpool's all-time leading Premier League scorer on Sunday night, displacing Robbie Fowler, the former team captain and winner of 10 championships made the remarks. Besides, Salah committed to a three-year deal with Liverpool last year, which should allow him to score more goals for the team in upcoming campaigns. Following the news, Liverpool supporters were "ecstatic," as he has grown to be one of the club's most beloved players since joining in 2017. He will help Liverpool win their first league championship in 30 years in 2020.
If you want to watch Saleh play , totalsportek is the site to watch all the football. Go now and watch all the sport streams for free.