Spains Win Amidst Gavis Injury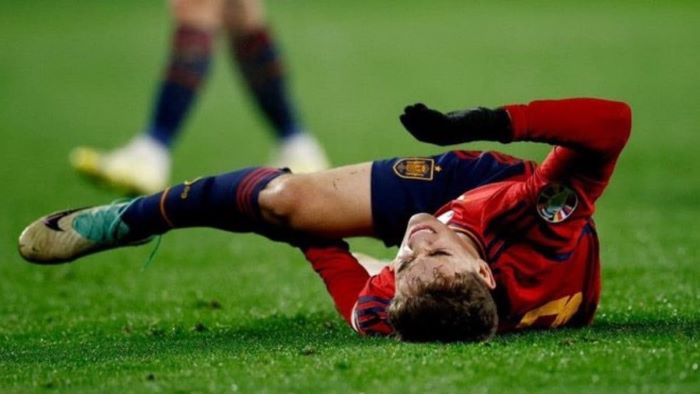 In a bittersweet turn of events during the Euro 2024 qualifying match against Georgia, Spain and Barcelona midfielder Gavi sustained a severe knee injury. The 19-year-old's promising performance took a tragic turn when he landed awkwardly while attempting to control the ball, forcing him to exit the field in tears in Valladolid.
Manager Luis de la Fuente expressed deep concern about the extent of Gavi's injury, emphasizing the uncertainty surrounding potential damage to the anterior cruciate ligament. Reflecting on the unfortunate incident, de la Fuente lamented, "This is the ugly part of football. This is the most bitter victory I have ever experienced in my life." The manager acknowledged the challenging moment not only for Gavi but also for Barcelona, the national team, and himself, likening the impact to a loss on the field.
Expressing sympathy for Gavi's situation, de la Fuente urged patience as the team awaited test results to determine the severity of the injury. Despite the blow, Spain had already secured their place in the upcoming European Championships and went on to defeat Georgia 3-1, claiming the top spot in Group A, ahead of Scotland.
The match saw an early lead for Spain, with defender Robin le Normand scoring after just four minutes. However, Georgia's Khvicha Kvaratskhelia managed to equalize. Ferran Torres later restored Spain's lead in the second half, and a stroke of misfortune for Georgia, in the form of an own goal by Luka Lochoshvili, sealed the victory for Spain.
Despite the triumph, the team couldn't fully celebrate as Gavi's injury overshadowed the achievement. Le Normand, who scored the opening goal, acknowledged the somber mood, stating, "We can't celebrate as we would have liked. Gavi's injury is a hard blow. I'm really gutted."
Torres, who dedicated his goal to Gavi by holding up his teammate's shirt during the celebration, echoed the sentiments of the team, expressing a bittersweet feeling about the victory. Torres said, "This victory is important because it ends on a good note, but it also leaves us feeling a bit sad and mixed up."
The extent of Gavi's injury remained unknown at the time, but Torres, emphasizing Gavi's resilience, acknowledged the potential seriousness of the situation.
As the football community anxiously awaits updates on Gavi's condition, the incident serves as a stark reminder of the fragility of success in the world of sports, where triumph and tragedy can intersect in unexpected ways.