The Ankle Injury That Could Eclipse Tottenhams Season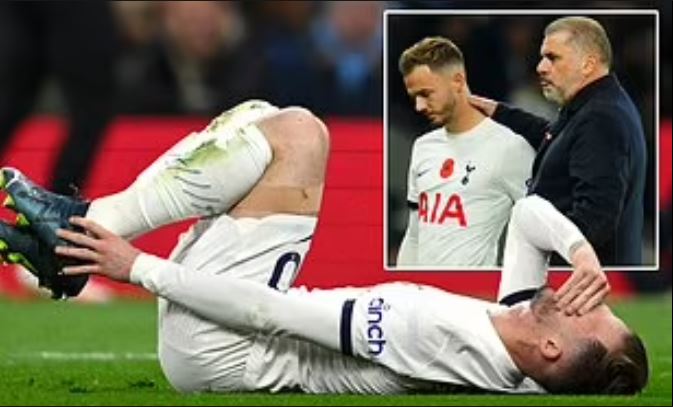 Tottenham Hotspur is grappling with heightened concerns over the fitness of star midfielder James Maddison, whose ankle injury, initially thought to be less severe, is now feared to result in a prolonged spell on the sidelines. The talented attacking midfielder, who recently made a significant impact since his move from Leicester, was substituted during Tottenham's recent clash against Chelsea, prompting worries about the extent of his injury.
Initially, there seemed to be a glimmer of hope for Tottenham as Maddison was named in the England squad just days after the injury. This raised expectations that the influential player might not be facing an extended lay-off. However, those hopes were dashed when Maddison withdrew from the national team set to face Malta and North Macedonia, intensifying concerns about his overall fitness.
Behind the scenes at Tottenham, there is a sense of anxiety as the club fears losing Maddison for a significant period. Since his arrival, Maddison has become an integral part of the team, making his potential absence a major blow. The exact severity of the ankle injury is currently under examination, with the results expected to shed light on the extent of the damage.
Tottenham's head coach, Ange Postecoglou, is expected to address questions about Maddison's fitness in the pre-match press conference before the upcoming clash against Wolves. The anxiety surrounding Maddison's status adds to Tottenham's growing injury crisis, which includes the absence of key players like Richarlison and Micky van de Ven.
The confirmation of Maddison's withdrawal from the England squad due to the ankle injury further emphasizes the seriousness of the situation. In an official statement, Tottenham declared that Maddison will not participate in the UEFA EURO 2024 qualifiers against Malta and North Macedonia. Instead, he will undergo rehabilitation with the club's medical staff at Hotspur Way.
England manager Gareth Southgate offered some insight into Maddison's condition, suggesting that he appeared positive despite there being a noticeable element of doubt. Southgate mentioned that, at the time of the decision regarding , the team had just gone down to 10 players. He speculated that the manager might have been considering the situation, thinking, "I've got a player who might have a knock, and we've only got 10 players anyway."
As Tottenham navigates a challenging period marked by injuries to key players, the uncertainty surrounding James Maddison's ankle injury has added a new layer of concern. The club and its fans will anxiously await further updates on Maddison's condition, hoping for a swift and complete recovery for the influential midfielder.